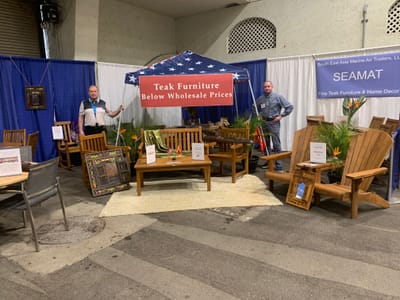 South East Asia Marine Air Traders LLC (SEAMAT), a disabled veteran owned company, is dedicated to providing high quality furniture and home décor products at reasonable prices. Our products are designed with style and durability in mind. When that design is couple with the highest quality materials you have a beautiful piece of furniture that will last a lifetime.
SEAMAT uses only kiln dried quality teak in the manufacture of their furniture. Teak is the ideal wood for outdoor furniture. It lasts for decades and is not susceptible to rot. SEAMAT teak is kiln dried to provide a consistent moisture content that precludes warping and splitting. The patio furniture collection is finely sanded, but does not have any coatings or oils applied to the surfaces. A light water based stain is used on some pieces. As time passes, teak will develop a silver patina which many people find attractive. Should you desire to have your piece returned to the original honey color, a light coast of teak oil or a teak restorer will do the trick.
SEAMAT is well aware of the damage that deforestation causes the environment. The teak that SEAMAT uses for their products is harvested from the Alas Roban Teak Plantation. The plantation is a community of cooperative forest located in Central Java, Indonesia and is certified by the Forest Stewardship Council. The Alas Roban plantation grows only teak and has been in operation since the early 1900's.
If you have any questions, please call (760) 598-8740 or email
seamatteak@gmail.com
Hope to hear from you soon!